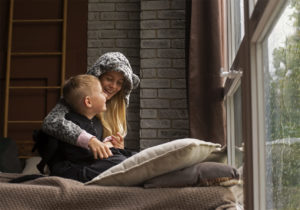 Protection & Peace of Mind
Your roof is the first line of defense protecting your home against weather elements in the Pacific Northwest. If your roof is leaking or needs repair, then you are putting your loved ones and your valuables at risk. For many people, roofs are out of sight and out of mind until a major problem strikes.
It is vitally important for the safety of your home, your valuables, and your family that inspections are performed on a regular basis. Leaks in your roof can lead to dangerous mold growth, rotten sheathing and rafters, damage to interior finishing, damage to flooring and carpeting, and damage to roofing felt.
Most roof leaks can be prevented by catching problems early with a routine roof inspection. For commercial properties, annual roof inspections keep facility managers informed; reducing unexpected costs down the road. Portland Roofing Company's inspection service allows decision makers to assess future repairs and replacements.
For residential customers, our roof inspection services can preserve your roof, protect your home, and increase the resale value of your property by having regular roof maintenance performed on problem areas. Catching problem areas as early as possible results in more cost-effective roof repairs and can help you avoid costly roof repairs in the future.
Our highly trained roof inspectors will check the roof's materials, pipe vents and flashings, gutters, skylights, exhausters, ridge vents, attic space, and other aspects of your roof. Roof repairs can require as little as 20 minutes of caulking or as much as an entire roof replacement.
By taking precautions and detecting problems early, you will have the benefit of repairing your roof at a fraction of the cost of an entire roof replacement. Our goal is to preserve your roof and provide you affordable and high quality roofing repairs.